IDENTIFY YOURSELF IN THE PROFESSIONAL LEADER'S HORIZON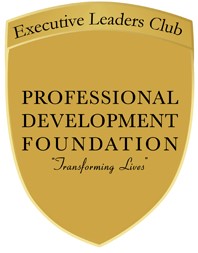 Introduction
The Professional Development Foundation (PDF) - Center for Executive Excellence (CEE); is delighted to announce for the first time in Egypt the launching of its Executive Leaders Club (ELC) that hosts more than 1600 CEE graduate executives.
The ELC is the only Executive Club in Egypt that provides its members with a continuous learning process through workshops delivered by Top Local & International keynote speakers from all over the world, to share their experiences and success stories through continuous periodical gatherings.
Vision
ELC will be a collaborative platform of human capital fostering leadership and executive excellence.
Mission
To align the brightest of Egyptian minds with the community at large in developing people so as to create a high performance culture enabling global reach..
Objectives
Establish a strong infrastructure for ELC by developing its organizational structure and formulating its bylaws and regulations.
Create a membership base of 200 senior executives to network and share experiences.
Ensure cross-functional and cross-industry collaboration by sharing experiences through at least three networking activities.
Develop a sustainable model for the continual growth of ELC.
Conceptualize a community development program that champions best practices across functions and industries for present and future leaders.
Core Values
Collaboration
Commitment
Innovation
Integrity
Passion
Sharing
Trust
Committees
Bylaws and Membership Committee
Sustainability and Finance Committee
Events and Activities Committee
Community Development Committee
Marketing Committee
Value to the Members
The ELC is designed to provide a forum for members to network and have access to information regarding professional development opportunities, and career networking. ELC would be concerned with organizing seminars, conferences, mini-conferences, workshops that hold topics important for both business and commerce. The value to its members can be summarized as:
Ongoing networking events with distinguish Speakers
Addressing markets/organizations challenge
Establish a link to exchange ideas and professional approaches
ELC members entitled to have a membership card that would enable them to benefit from a variety of our corporate rates in Egypt.
Membership certificate
Online access to the ELC web page ( with user name & password)
Get special offers to attend CEE executive programs
Benefit from the ELC corporate discounts.
Members are entitled to invite up to 2 guests to the ELC events.