Center for Executive Excellence organizes an exceptional HR Professionals IFTAR Gathering
In a step to promote networking and exchange of experiences, the Foundation - Center for Executive Excellence (CEE); organized an "Iftar Gathering"  for Human Resources and Training Managers from diversified sectors, aiming  to endure its relationship with the business community in order to keep updated with the needs of the labor market in the Training and  Skills development Field .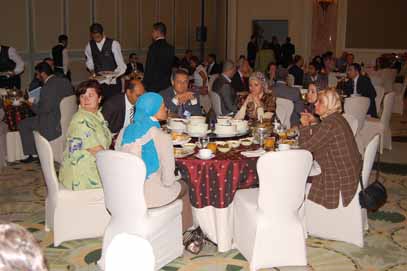 In his Speech, Mr. Mohamed Farouk Hafeez, the Secretary General & Board member, highlighted the leading role played by the Foundation in developing Egypt's human Capital, which came  as a result of its sustained effort for the past 10 years through  the initiatives and the  training programs it presents which helps in  increasing the effectiveness of institutions and the  capacity building of individuals and leaders.
He also added that the Foundation gives special attention to addressing the human resource challenges facing organizations today. Additionally it believes strongly in enhancing Education and developing the capacity of Civil Society, which along with public and private sector creates the Sustainable Development triangle.
It is worth mentioning that the Center for Executive Excellence (CEE) which was established in 2004, has graduated till now more than 1500 executives in all areas. Moreover, it's the First Center of its kind to be ISO certified as a Quality Executive Training Center in the Middle East.